When it comes to your Chiweenie's safety outside of your home, choosing the right leash is one of the most important choices. You need a leash for your Chiweenie that leaves room for your comfort while offering better control over your furry friend.
Luckily, there are a few great options of dog leashes that are known to keep your Chiweenie safe while providing you with optimal control. In this post, we are going to recommend 6 dog leashes for your Chiweenies.
If you are ready to find the best dog leash for your Chiweenie, take a look at the six dog leashes we recommend below.
1. Fida Retractable Dog Leash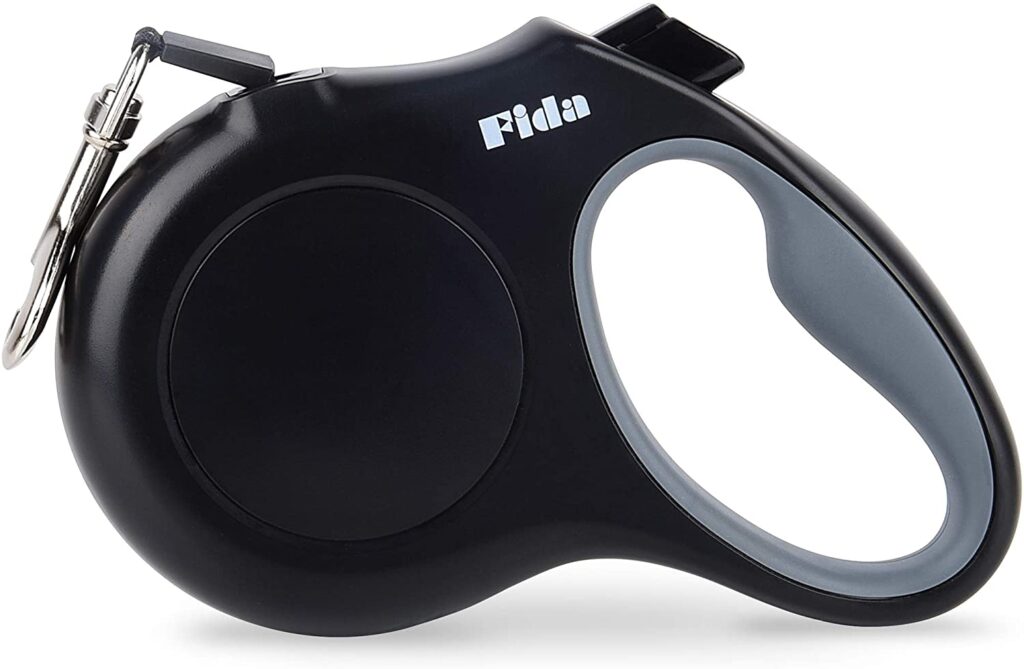 Fida Retractable Dog Leash is an amazing option for your Chiweenie. It reaches up to 16 feet in length and has an easy to use brake system. The leash has a high-quality internal coil spring that retracts the leash uniformly.
Retractable Dog Leash features a non-slip soft handle. It comes in a variety of sizes and colors. The reflective stitching on the leash let you easily walk your Chiweenie in the night as well.
Key Features
Brand: Fida
Available in 4 sizes and multiple colors
Material: Polyresin
A 16-foot length of nylon tape leash
The quick and durable braking system
Scratch-free material
Durable rustproof swivel hook
Strong reflective tape
Soft handle
Anti-twist inlet
Why we love it
Durable and steady
Resistant to rust
Easy to hold and use
Tangle-free design
Great for walking, jogging, running, camping and hiking your Chiweenie
Lightweight
---
2. Vivaglory Dog Leash with Padded Handle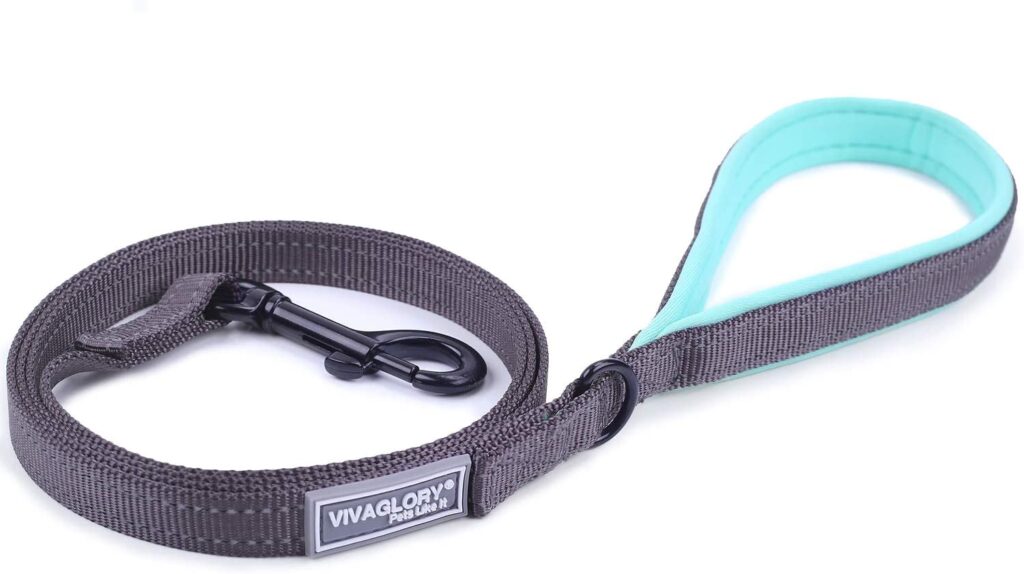 Make walking your Chiweenie a fun and comfortable experience with Vivaglory Dog Leash. It comes in a variety of sizes and colors. A swivel clasp at the collar end gives your dog plenty of mobility and prevents the leash from getting tangled.
The padded handle is very comfortable and easy to hold. The double-layer tightly webbed nylon makes the leash strong and sturdy. Luminous reflective threading through the leash enhances your Chiweenie's visibility to keep safe at night.
Key Features
Brand: Vivaglory
Available in multiple colours and sizes
Material: Nylon
Padded handle
Luminous reflective threading
Heavy-duty alloy clasp
Why we love it
Super strong and durable
Offers security to your beloved Chiweenie
Comfortable handle and prevents hands from being cut
High visibility at night
Tangle-free design
---
3. Pawtitas Pet Puppy Leash Reflective Dog Leash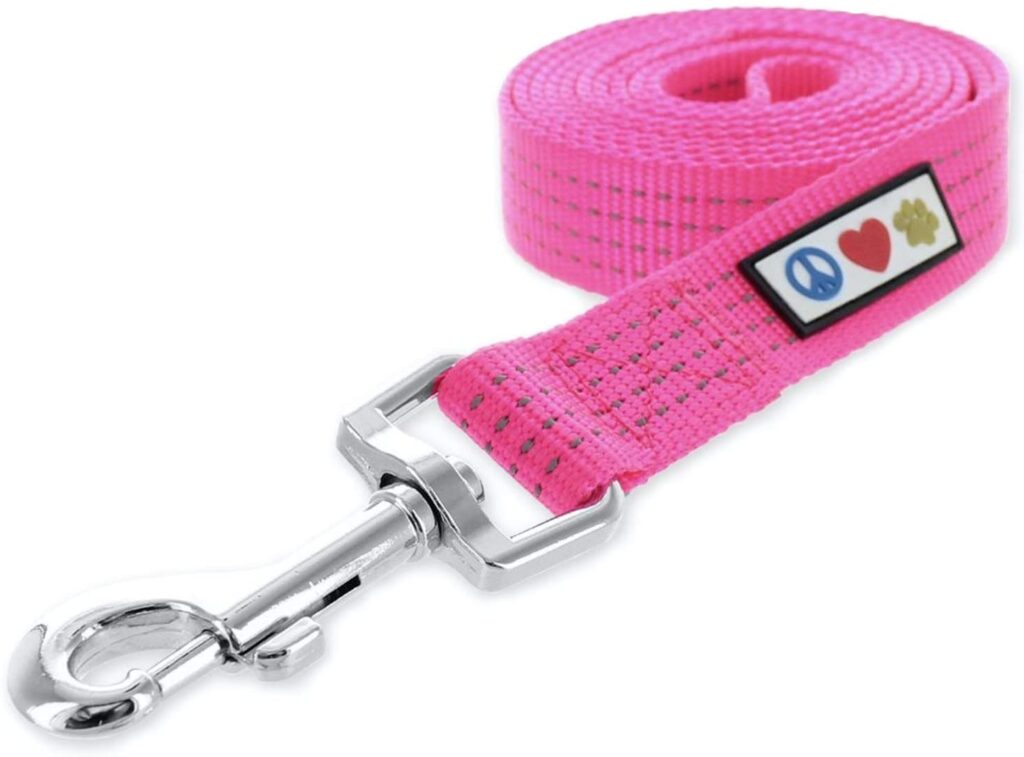 Always walk your Chiweenie in style with the Pawtitas Reflective Dog Leash. It's made with one solid strip of reinforced rip-stop nylon. The leash is resistant to the bites and scratches of dogs and intended to last for long-term use.
The sewn-on reflective stitching is designed to reflect ambient light from the environment, making daytime and nighttime walks safer. The Pawtitas reflective strip is 65% polyester and 35% cotton. The leash is perfect for long walks around the block, park, or your favorite spot. With Pawtitas leash, adventures with your Chiweenie are fun!
Key Features
Brand: Partitas
Material: Nylon
Available in multiple colours and sizes
Sewn-on reflective stitching design
Comfy handle and wide design
Why we love it
Makes daytime and nighttime walks safer
Comfortable and lightweight
Resistant to tearing and ripping
Extra durable for everyday use
---
4. Flipleash Standard, Regular Leash or Hands Free Quick Convertible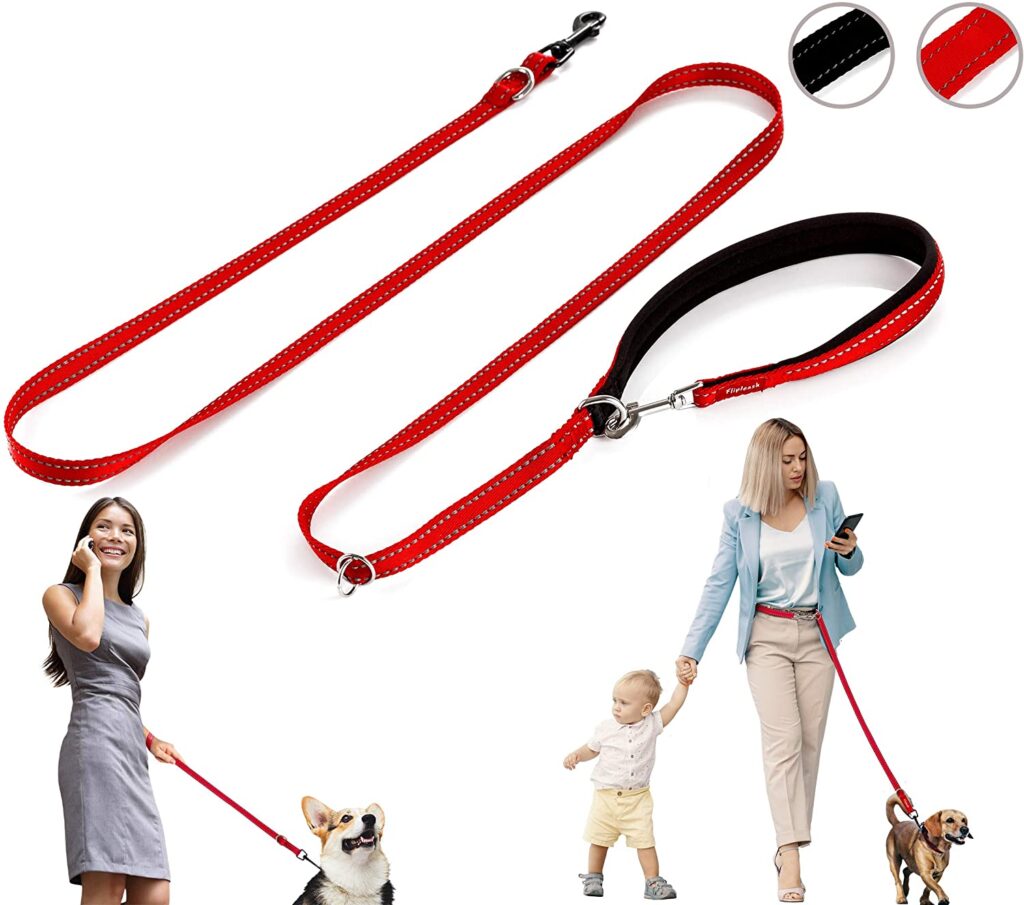 The freedom guaranteed by Flipleash hands-free dog leash sounds exciting for Chiweenies. You can use the wrist loop for conventional hand-held walking or instantly flip to hands-free whenever you need both hands.
There is an extra bright reflective weaving for increased visibility at night. When you 'flip' to the hands-free waist leash, the patent-pending lock ring sets to your personal size for a comfortable fit. The leash has a fairly simple design and is easy to use.
Key Features
Brand: Flipleash
Material: Nylon
Color: red, black
Rust resistant
Easily flips hand-held to waist and back whenever needed
Lock-ring technology
Why we love it
Easy operation
Durable
Multifunctional leash
Gives freedom, safety, and comfort
Hands-free dog walking
---
5. MayPaw Heavy Duty Rope Dog Leash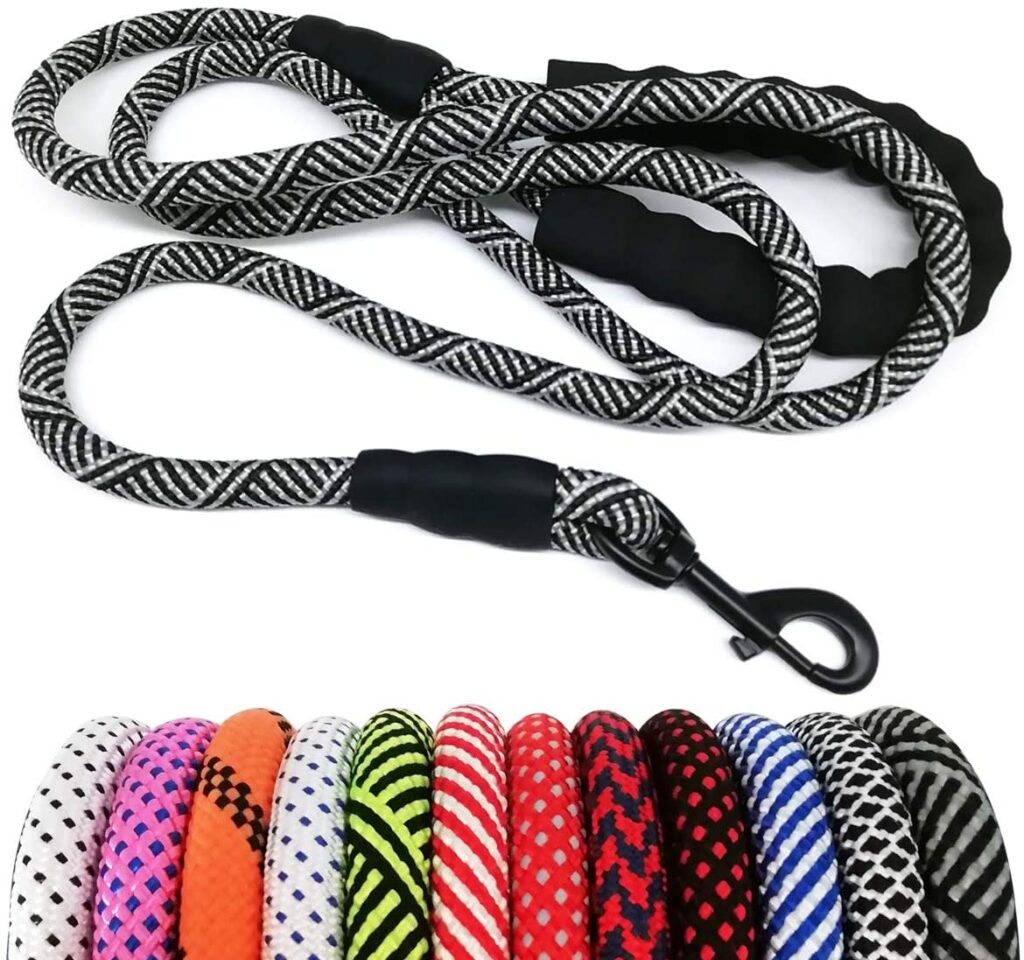 MayPaw Heavy Duty Rope Dog Leash is perfect for Chiweenie owners who have safety and style in mind. The leash provides trusted durability, with a variety of styles and beautiful colors to be distinctive and attractive.
The leash includes a soft padded handle for hand comfort during long walks. There is a
360 swivel clip to prevent stress on the clip with twists and turns. MayPaw Heavy Duty Rope Dog Leash is stretchy and shock-absorbing for Chiweenies that pull on their walks.
Key Features
Brand: MayPaw
Material: Nylon
Available in two sizes and multiple colours
Soft padded handle
360° heavy duty swivel clip
Why we love it
Durable and lightweight
Protect your hands
Offers easy walking with your Chiweenie
Gives you better control over your dog
Stretchy and shock-absorbing
---
6. MayPaw 4FT/6FT/8FT/10FT Dog Leash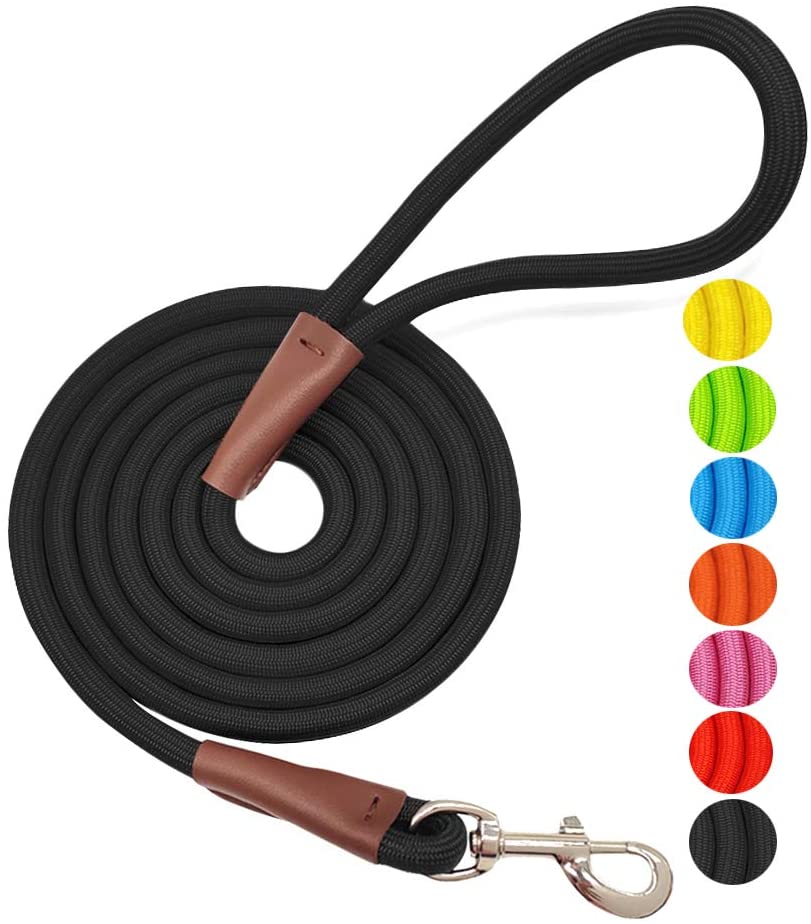 You can feel good about yourself when you buy the MayPaw dog leash. It is ultra-strong and is made of mountain climbing rope with a solid clip at the end. The leash comes in a variety of colors for you to choose from. It's easier to match your Chiweenie's collar or clothes.
MayPaw Dog Leash is lightweight and easy to pick up. The rope itself is extremely strong and durable. It is perfectly suitable for outdoor walking, backyard, beach, hiking, mountain climbing, hunting, training, exploring and so on.
Key Features
Brand: MayPaw
Material: Leather
Available in 7 exciting colors
Multiple size options
Mountain climbing rope
Heavy-duty silver clasp
Leather tailor connection
Why we love it
Comfortable
Sturdy and durable
Easy to clean; machine washable
Resistance to friction
Lightweight
Dog Leash for Chiweenie: Buying Guide
In choosing the best dog leash for your Chiweenies, it is vital to take into consideration some specific features. Here are some of the things you should look out for in selecting a dog leash for your Chiweenie:
Material
Once you know what type of leash you would like for your Chiweenie, you can select the material you would like your leash to be made out of. Lightweight and waterproof dog leashes are perfect for all types of weather. The material used in the leash should be easy to clean and safe.
The materials used for your Chiweenie's leash should be durable and safe. The most common materials used for leashes are nylon, leather, fabric, and chain. You'll need to think about your style and understand what works best for your Chiweenie.
The correct length
You must choose the right length of the leash for your Chiweenie. Shorter leashes are perfect for training or walking your fur buddy on the street. Longer leashes can give your Chiweenie more freedom to run in the garden or park. The length you choose all depends on your Chiweenie's needs.
Reflective leash
Reflective stitching or material is vital for early morning or dusk walks. Luminous reflective stitching offers high visibility and safety. Reflective dog leashes enhance your Chiweenie's visibility and are perfect for nighttime and evening walks.
Comfort
Dog leashes for Chiweenies should ensure the utmost comfort and safety of you and your dog. The leash should be comfortable in your hand and the edges of the nylon should not be sharp. Having a leash that is comfortable and easy to use makes your adventures with your Chiweenie much more enjoyable!
Durability
If your Chiweenie gets a hold of the leash and it's not durable, it may break and you may be buying several more. The Chiweenie leash should be sturdy enough to stand the test of time.
Leash clip
Dog leash clips should provide a strong and secure attachment. They should be easy to connect and disconnect from your Chiweenie's collar quickly.
Pet Parent Tip: Check your Chiweenie's leash regularly for any damage and ensure the leash clip is sturdy and secure. If you notice any fraying, tears, or damaged clip, replace the leash at the first sign.
Final thoughts
It is important to have the right gear when you take your dog outside. Buying a leash for your Chiweenie can be surprisingly stressful. We hope our reviews will help you make an informed decision. Our top picks will take the stress out of walking your Chiweenie, and let you relax and enjoy a leisurely stroll.
Select the right type of leash, the size, the width, the material and the length for your Chiweenie. This will give you peace of mind that your furry pal is safe when it's outside. You will definitely value it every time you take your Chiweenie out for a walk!
Hope you enjoyed reading this article! Did you find this article helpful? Feel free to share your thoughts and questions. We would be happy to hear from you!
Happy Petting!