Does your Chiweenie bug you to interact while you're trying to get some work done? Is your Chiweenie barking for no apparent reason? Most of the time, this little guy is getting bored.
Chiweenies need exercise, fun, and mental stimulation in their everyday life. Dog toys are entertaining for your Chiweenie and serve as an incredible outlet for your fur buddy's mental and physical activity. 
A good dog toy will keep your Chiweenie busy for hours! It creates a useful distraction for your Chiweenie that redirects destructive chewing.
Dog toys are a great source of entertainment for your Chiweenies and provide mental stimulation and anxiety relief.
Top 6 dog toys for Chiweenies
Are you looking for dog toys that are durable and entertaining? From squeaky toys to plush and tug toys, the choices of dog toys are simply endless. We are here to facilitate you in selecting the best dog toy for your Chiweenie.
Here is the top of the heap when it comes to dog toys for Chiweenies.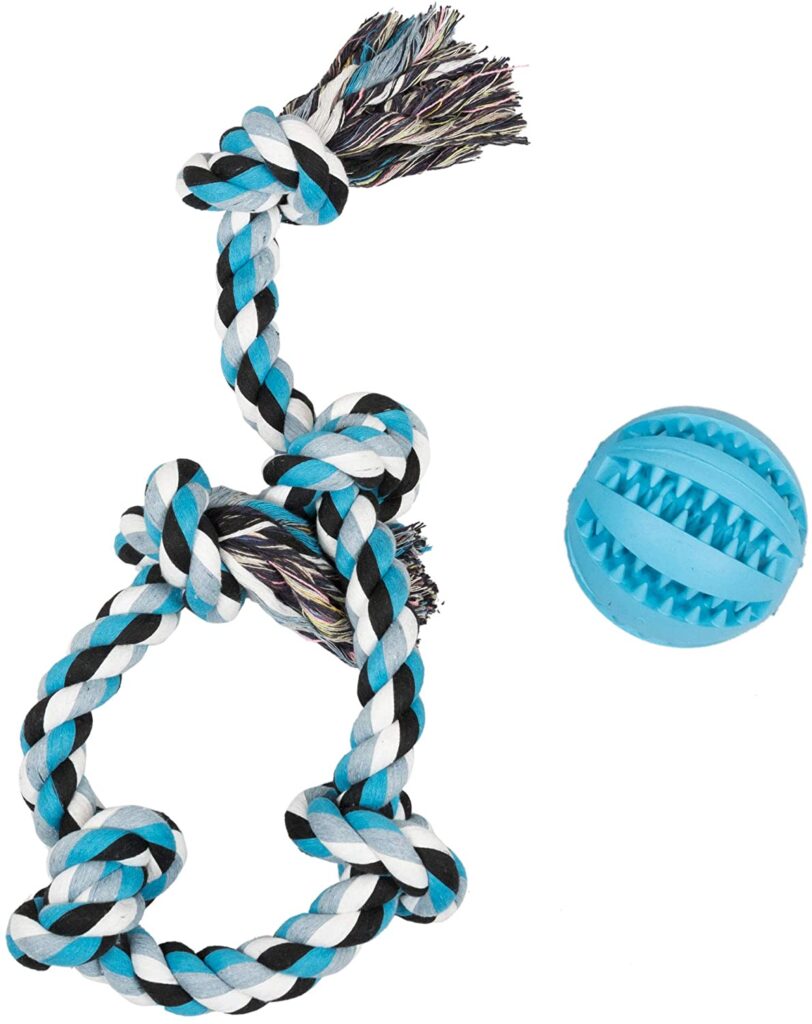 This super fun tug of war dog rope toy is a fantastic toy that keeps your Chiweenie happy all day long. The best use of this rope is when you and your Chiweenie play together.
This dog toy offers a little bit of everything. It includes one extremely durable 36-inch rope with 5 knots. The rope, made with a blend of cotton-poly, is soft enough to chew but strong enough to last. The ball is 7cm long and 140 gram in weight. It is made of 100% pure rubber material that is safe and durable. This rubber treat dispensing ball is made for your aggressive chewers.
This rope toy is great for fun indoor activities, outdoor games, or playing tug of war. This amazing toy is also great for teething Chiweenie puppies. It also provides a great way to teach your Chiweenie self-control and improve their behavior. Your dog will fall in love with this dog rope toy.
Key Features
Brand: Butterfly Bella
Color: Red and Blue
Material: Cotton Blend
Pattern: Striped
Treat dispensing
Includes 100% pure rubber ball
Includes 36-inch rope with 5 big and sturdy knots
Bigger and sturdier knots
Pros
Food dispensing option
Suitable for aggressive chewers
Kill your dog's boredom
Strengthening the bond you have with your Chiweenie
Premium quality
Durable and sturdy
Simple to use
Great for teething puppies
Helps to release pent up energy
Cons
The dog toy will not squeak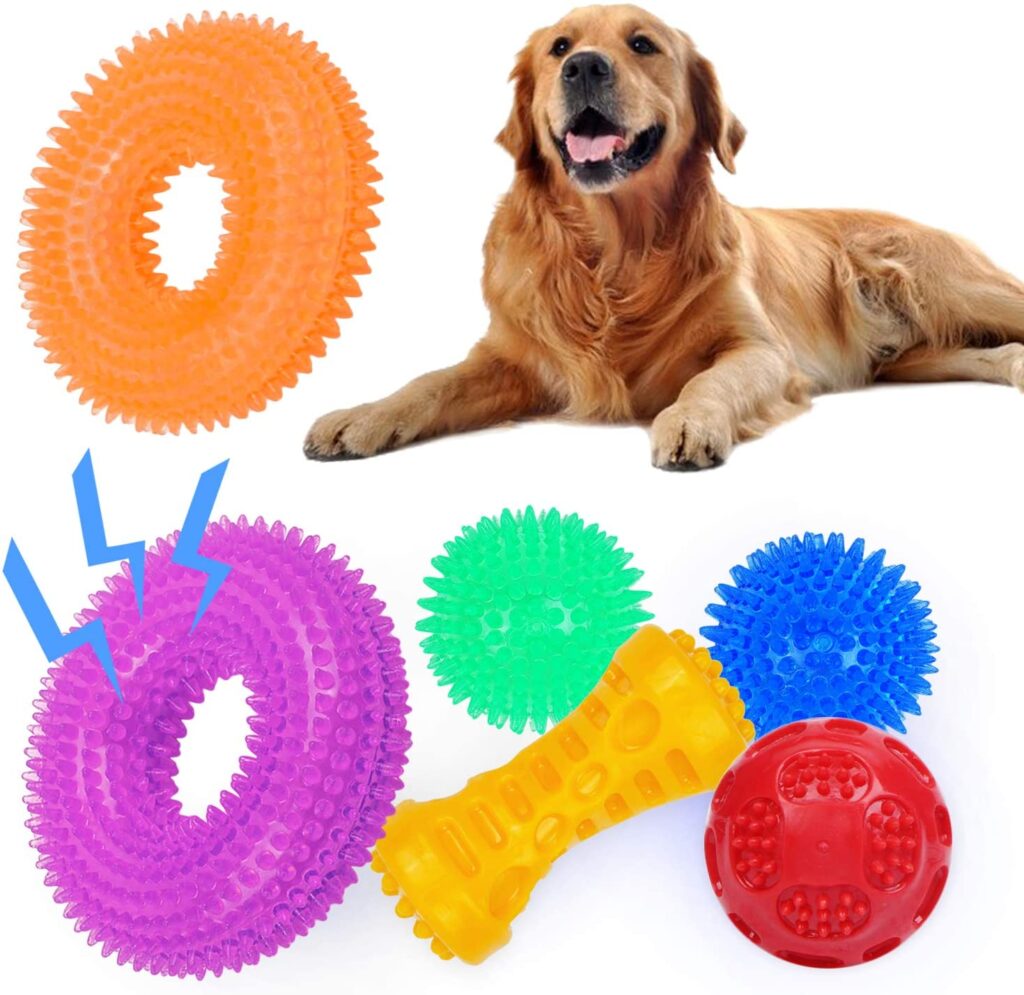 Hestarpet Squeaky toy set includes attractive and vibrant chew toys that will be fun for your little Chiweenie. These toys come in three different varieties and are durable and have good elasticity. Your Chiweenie will have fun chewing its soft textured surface.
The Hestarpet Squeaky toys are well made of high-quality TRP Rubber material that is non-toxic and safe. Chewing these toys will improve your dog's oral health. Chewing cleans teeth, removes plaque, prevents decay, and freshens their breath.
Hestarpet Squeaky toy set is best for different occasions, from fun indoor activities to outdoor games with your dog. Hestarpet dog toys keep your dog busy and reduce their anxiety. Your Chiweenie will love this squeaky dog chew toys set!
Key Features
Brand: Hestarpet
Quantity: 6pcs Squeaky Toys
Color: Muti-Color
Material: TPR rubber
Made of non-toxic and safe material
Comes in 3 different varieties
Pros
Enhances the relationship between dog and owner
Highly flexible and entertaining
Durable construction
Helps clean your dog's teeth
Soothes discomforts from teething
Prevents damage to your furniture and shoes
Washable
Cons
Not a good option for aggressive chewers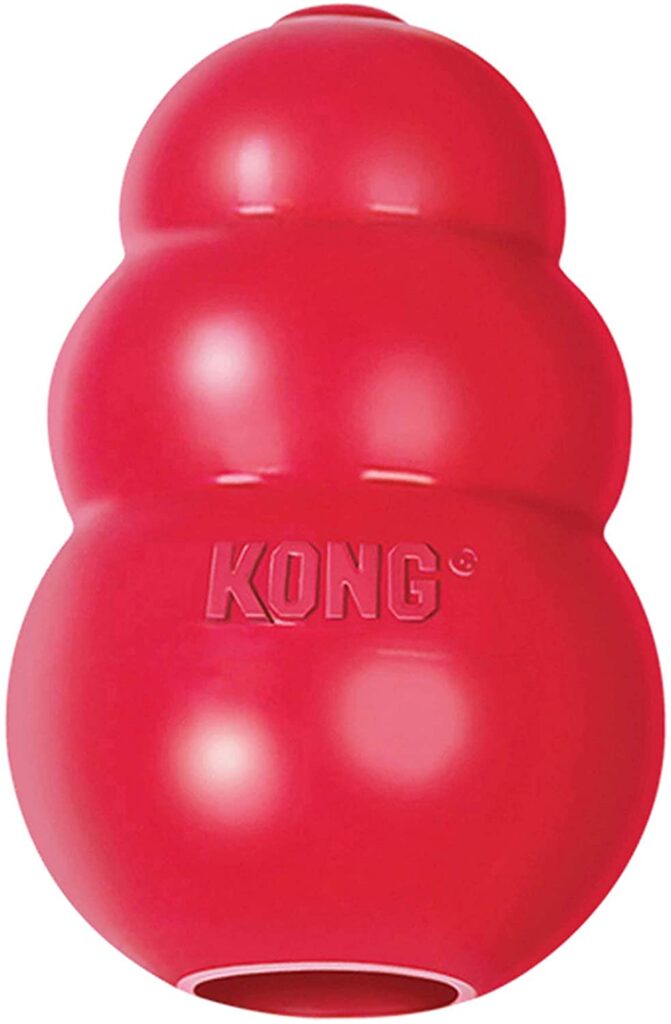 The Kong Classic Dog Toy helps satisfy your Chiweenies' instinctual need to chew. It is designed specifically with the well being of your dogs in mind.
Kong Classic is a great toy for your dogs to play on their own when you are busy. Kong will provide your dog with hours of healthy fun. It is constructed with top quality materials.
This treat-dispensing toy helps solve destructive chewing, separation anxiety, boredom, digging, and barking. Your Chiweenie will end up with better oral hygiene just by playing with Kong dog toy.
Key Features
Brand: KONG
Color: Red
Material: Rubber
Available in 5 sizes
Can be stuffed with dog treats
Pros
Kill your dog's boredom and anxiety
Made from odorless, non-toxic, and safe material
Premium quality
Durable and sturdy
Simple to use
Provide mental enrichment
Prevent bad chewing
Cons
Some buyers have complained about a strong chemical smell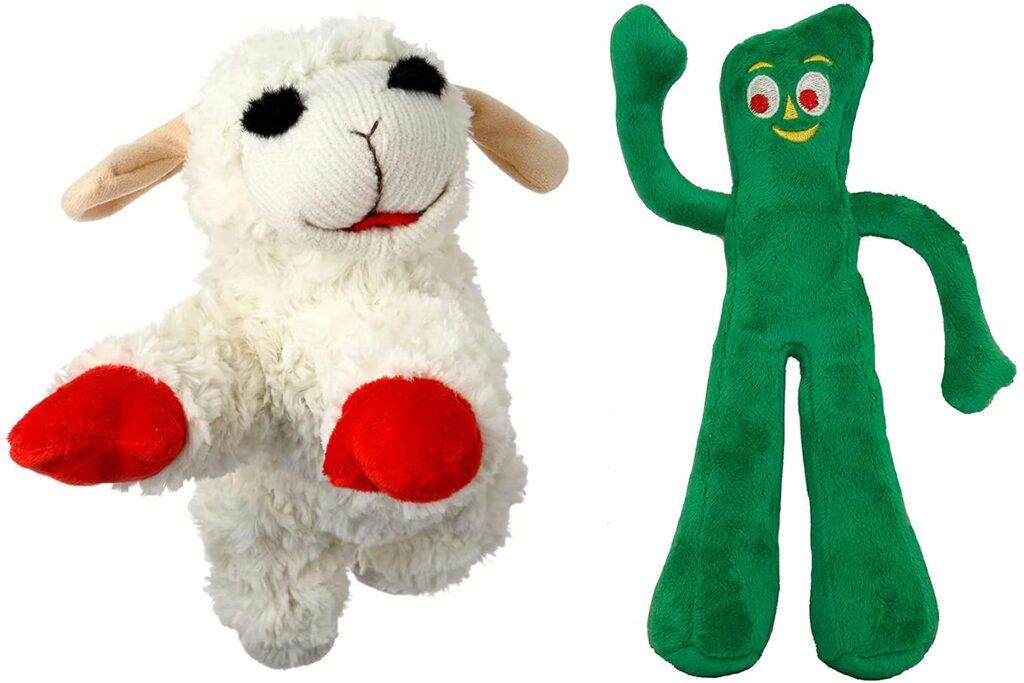 Remember the cute puppet Lamb Chop from when you were a child? Well, Multipet Lambchop Plush Dog Toy is a super sweet and adorable dog toy that is designed to look just like Lamb Chop. It features a durable squeaker that your Chiweenie will love chasing and chomping on to hear the delightful sound that it makes.
The plush material is soft enough to chew on and won't cause any injuries. The perfect stitching in Multipet Lambchop Plush Dog Toy makes it hard for your furry pal to tear through it. Your Chiweenie will enjoy curling up with it in its dog bed at naptime!
Key Features
Brand: Multipet
Includes squeaker
Size: 10″ regular
Extremely soft plush toy
Includes internal squeaker
Lightweight
Pros
The classic character will bring instant joy
Great for cuddle
Prevent separation anxiety and relieve stress
Perfect for puppies
Squeaks when played with
Cons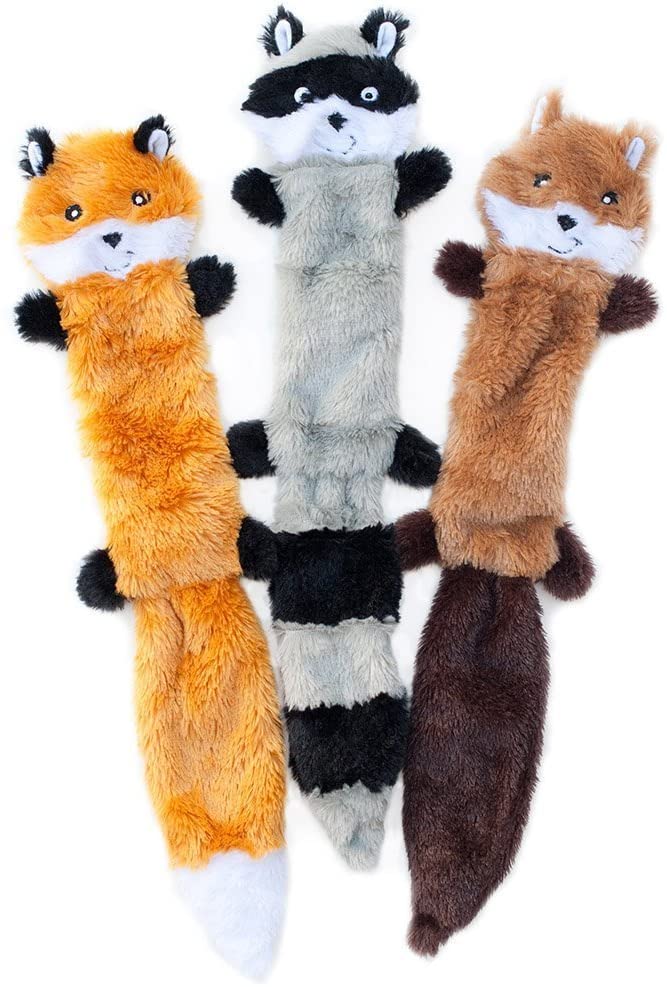 ZippyPaws Skinny Peltz No Stuffing Squeaky Plush Dog Toys feature furry friends that your dog can play with all day long. The set includes three cute dog toys: a fox, a raccoon and a squirrel.
Each large plush toy of the trio is filled with two round squeakers for hours of squeaking action. These toys contain no stuffing, which means less mess and less stress!
Key Features
Brand: ZippyPaws
3 large toys set: includes Fox, Raccoon, and Squirrel
Material: plush
No stuffing
Each toy includes 2 round speakers
Pros
Provides hours of squeaking fun
Durable toys
Beautifully-designed
No stuffing means less mess and less stress
Keep your dog entertained while you're at work
Cons
Can be destroyed by an aggressive chewer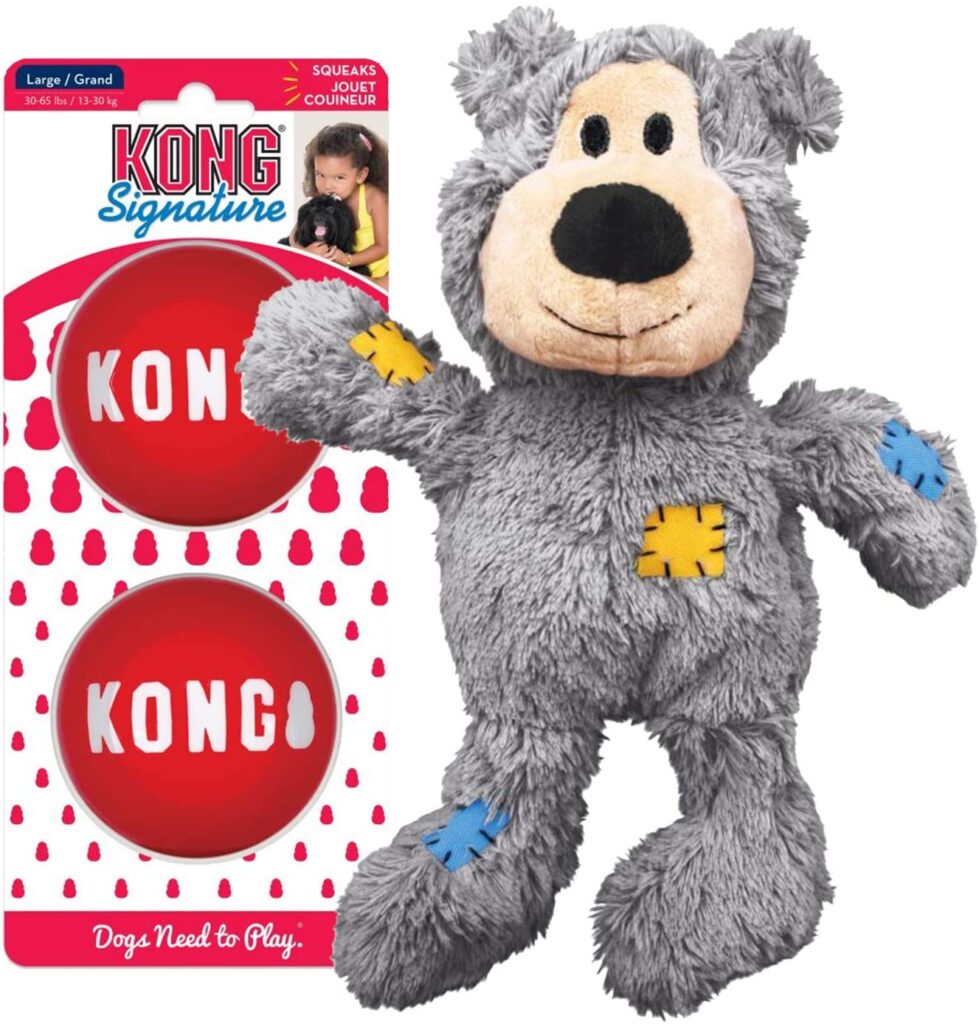 KONG Wild Knots Bear and Signature Balls are sure to be a hit with Chiweenies and their pet parents. This squeaky set includes two ultra-durable and bouncy balls and the ever-popular Wild Knots Bear. It is available in a range of sizes to suit all breeds.
The Wild Knots Bear is soft and cuddly on the outside while strong on the inside. The knotted skeleton and the reinforced plush body provides extra durability. They squeak to entice play and have less stuffing for less mess.
You Chiweenie will be delighted to play fetch with the KONG Signature ball. It brings ultra-durability and an uber-bounce to games of fetch and retrieves. The durable balls will last for Chiweenies that can never get enough retrieving fun.
Key Features
Brand: Kong
Available in four sizes
Wild Knots Bear has a squeaky rope interior and a plush exterior
Minimal stuffing
Squeaky toy
Pros
Soft and durable
Less mess due to less stuffing
Cuddly on the outside
Satisfies Chiweenie's natural instincts
Reduces your dog's anxiety
Cons
Wild Knots Bear toy is very small
Buying considerations for dog toys for Chiweenies
Dog toys come in many shapes, sizes, and variations. Here are some buying considerations to choose the safest dog toys for your Chiweenies.
Choosing the right sized toy:
Dog toys should be appropriate for your Chiweenie's size. Dog toys come in multiple sizes for different breeds. Toys meant for puppies should not be given to adult dogs.
Check for choking hazards:
You must ensure Chiweenie's safety when giving dog toys to your fur buddy. The dog toy should not present choking hazards. Avoid using any dog toys that have sharp edges or are falling apart. Remove tags, plastic cover and other objects from toys before giving them to your Chiweenie. 
The material used in the dog toy should be easy to clean and safe. It should be free of harmful chemicals and side effects.
Many dog toys offer extra enrichment including textured surfaces and treat-dispensing options. Such additional features add bonus points.
When selecting a dog toy for Chiweenie, durability is the key. After all, it needs to hold up to some serious chewing and pawing. A poorly constructed dog toy could potentially injure your Chiweenie or present a choking hazard.
Despite the different designs and materials, these dog toys have one thing in common: "They all are great for Chiweenies."
Pet parent tip: No dog toy is truly indestructible! So, always remove the toy from playtime if it starts to break off. Supervised play can keep your Chiweenie safe and will help toys last longer.
In closing
By now, you must have a good idea of the essential features to look for when considering the best dog toy for your Chiweenie. They are sure to help your furry friend feel happy and stimulated.
Try experimenting with different ones to discover their favorite. Your Chiweenie will love it!
Thanks for dropping by and taking a look at our top 6 dog toys for Chiweenies.
Until next time everyone!